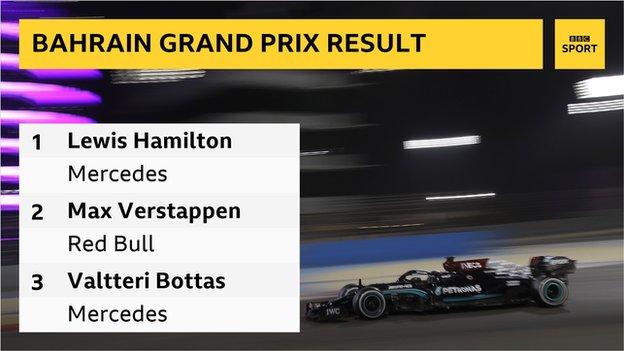 Mercedes driver Lewis Hamilton held off Max Verstappen's Red Bull for victory in an extraordinary finish to the Bahrain Grand Prix.
Verstappen actually took the lead from Hamilton with four laps to go but handed the position back because he had overtaken by running off the track.
The move – an order from race control – cost the Red Bull driver the victory. Verstappen never quite got close enough again to challenge Hamilton.
It was a remarkable climax to a tense and thrilling strategic battle that bodes well for an epic season between the two men.
Verstappen complained over the radio about being ordered by his team to hand the lead back, but was told it had been an order from race control.
What a race to open a potentially thrilling season
It was a brutal end to the race for Verstappen, who had taken a dominant pole position and had looked to have pulled off a great comeback drive for victory.
But both men drove brilliantly, as Mercedes and Red Bull fought a strategic battle for superiority in one of the most gripping races for some time.
Verstappen converted his pole into a lead at the start, but Hamilton moved in front when Mercedes stopped him earlier to go for the so-called undercut, when a driver pits to gain from the speed benefit of fresher tyres.
That gave Hamilton track position, and he kept it through his second pit stop.
Red Bull decided to run Verstappen 11 laps longer to give him a tyre advantage at the end of the race, and he stopped with 18 laps to go, setting up a grandstand finish.
Hamilton had to measure his pace to hold Verstappen for as long as possible while also keeping his tyres in decent shape for the inevitable battle in the closing laps.
Verstappen was on Hamilton's tail with five laps to go, and passed him a lap later around the outside at Turn Four.
It looked to be a superb move to clinch what would have been a deserving victory and an emphasis that Red Bull had the fastest car this weekend.
But a flick of overseer as he went around Hamilton took him wide, and he broke the rule that said drivers had to stay the right side of the exit kerb on the outside of the corner.
Ironically, Red Bull had complained earlier in the race that Hamilton had been using that piece of track, and the world champion was told to stop doing it by race control or risk a penalty.
The officials treated Verstappen with the same strictness and he was immediately told to let Hamilton by, which he did on the straight down to Turn 11.
It looked a certainty that Verstappen would simply climb back on to Hamilton's tail and do the move again, but his pace had dropped and Hamilton had just enough to hold him off, to take the 96th victory of his career after a remarkable drive.
More to follow